Thinking of Doing Business with the Town of Whitecourt?
The Town of Whitecourt posts all public tenders to our website here (UPDATE LINK).  Learn about current bid and contract opportunities available to consultants, service providers, contractors, vendors, or suppliers. 
For provincial procurement opportunities, visit the Alberta Government Purchasing Connection here.
YOUR BUSINESS MATTERS
The Town of Whitecourt recognize the value existing businesses bring to the community and we want to connect with you! The Whitecourt Business Visitation Program is a part of the Town's business retention strategy and has been created to enable our Economic Development Team to gather information which will help shape our future programs, policies and resources to assist our business community. Using this information, we can help direct you to relevant resources and support and our team will be better equipped to represent the interests of Whitecourt Businesses.
We also recognize that business success is the result of forces working together and we have teamed up with Community Futures Yellowhead East, Whitecourt & District Chamber of Commerce and Alberta Government and Immigration to offer additional resources through a joint business visit along with our partners.
Key Objectives
Provide business owners with a single point of contact within the Town of Whitecourt and enhance communication between staff and the business community.
Express our appreciation to businesses that have chosen to establish operations in Whitecourt;
Meet with owners and operators to learn about business operation, future plans, and barriers to business operation within the Town of Whitecourt;
Highlight success stories and give businesses in our community recognition and exposure;
Gather information to assist with referring customers to suppliers;
Assist the Economic Development department with establishing key priorities to improve programming, competitiveness, enhance infrastructure, and increase and develop viable local export markets;
Act as an avenue to connect local companies with resources to support growth, expansion, retention, and networking opportunities; and
Discuss services and resources available within the government (Municipality, Regional, Provincial and/or Federal).
How to Participate
If your business would like to participate in Town of Whitecourt's Business Visitation Program or schedule a group visit with our partners, please connect with Rhonda Hough, Economic Development Officer at rhondahough@whitecourt.ca or 780-778-2273.
The Whitecourt & District Chamber of Commerce is a non-profit action organization designed to meet the business needs of our community. It is a voluntary organization of progressive individuals and businesses that work together to advance the commercial, financial, industrial and civic interests of the Whitecourt and Woodlands County business community.
Follow the Whitecourt Chamber of Commerce on Facebook, or contact the Chamber Office at 780-778-5363.
The Town of Whitecourt and our project partners received the 2015 Alex Metcalfe Award from Economic Developers Alberta (EDA) in recognition of the development of the Whitecourt Business Support Network.
Created in 2014, Whitecourt's Business Support Network is a partnership endeavor by the following organizations:
Town of Whitecourt
Woodlands County
Alberta Jobs, Skills, Training and Labour
Alberta Works
Community Futures
Business & Industry
Whitecourt & District Chamber of Commerce
The goals of the Network are to:
Contribute to the long-term sustainability of Whitecourt and Woodlands County
Provide a forum to share ideas, and exchange information on current labour market trends to identify and address workforce issues.
Meetings are held on the third Monday of the month at noon. New participants are welcome!

For more information on Business Support Network please contact:
Kristy Tuts, Workforce Consultant for Alberta Jobs Skills Training and Labour, at 780-778-7189
Rhonda Hough, Whitecourt Economic Development Officer, at 780-778-2273.
For over 25 years, Community Futures Yellowhead East has been helping people turn business ideas into reality in rural Alberta. Small business specialists will connect you with skills, financing, and resources you need to succeed.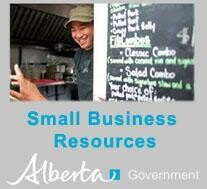 Small businesses now have access to a new streamlined website which provides a "one-stop-shop" for government service information at smallbusiness.alberta.ca. The website provides information on:
How to start and operate a business;
Resources on regulation, funding and other topics; and
Strategies and initiatives to help a small business grow.
In addition, through the "Ask the Expert" service, business advisors will be available to help small businesses navigate government business programs, supports, and regulatory information. They can be contacted via the website linked above or at 1-844-422-7705.
Business support programs and associations
Government of Canada Resources