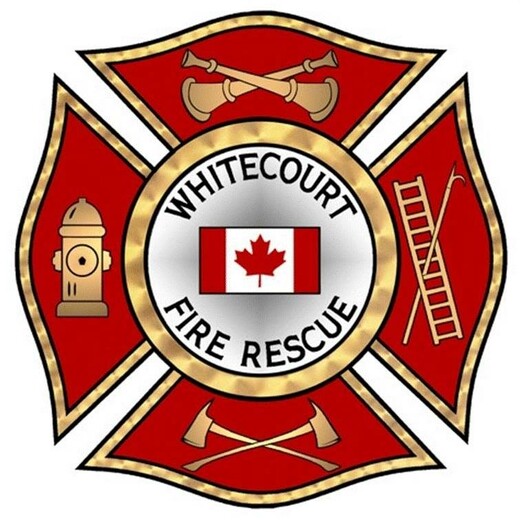 Follow the Whitecourt Fire Department on Facebook.
Whitecourt Fire Department
"With pride and professionalism, we provide emergency services and education to Whitecourt and surrounding area."
The Whitecourt Fire Department consists of a full-time Fire Chief, two Deputy Chiefs, and up to 40 paid, on-call Firefighters. The Department provides fire protection and rescue services for the Town of Whitecourt and the surrounding areas of Woodlands County. Contact the Fire Department between 8:30 a.m. and 4:30 p.m. Monday through Friday (except for statutory holidays) at:
Whitecourt Fire Department
5205 51 Street, Box 509
Whitecourt AB T7S 1N6
Phone: 780-778-2342
For Emergencies call 911.
Firefighters
Respond to emergency calls – fire, medical and other.
Drive and operate vehicles and equipment.
Provide emergency medical response and aid – rescue and extrication.
Perform duties in fire prevention and public education.
Participate in department training with respect to emergency equipment and emergency procedures.
Participate in public relation projects (such as recruitment, demonstrations, visits, etc.).
The Town of Whitecourt requires residents to apply for a permit for all outdoor fire pits.
Fire Pit Permits cost $20.00
Fire Pit Permits are issued to the property; so if ownership changes, the new residents are not required to re-apply.
Permits are only issued to property owners, or to renter who have the owner's written consent.
Once you have constructed/installed a fire pit on your property, visit the Town Office to apply for a permit. You will be required to pay a one-time $20.00 administration fee and complete an application form. The Fire Department will do a physical inspection of the fire pit installation and issue a permit if the device or pit meets the guidelines.
Fire Pit Guidelines:
Only clean fuel (wood) is to be burned. The burning of grass, yard waste, treated or painted wood, garbage, etc. is not allowed. Fires must be attended at all times. Fires must be completely extinguished at the end of each use.
The burn pit/barbecue is to be located at least 3.05 m (10ft) from any combustibles, i.e. buildings, fences, trees, tree overhangs, etc.
The burn pit/barbecue shall be located on a non-combustible base.
The burn pit/barbecue shall have non-combustible sides with a minimum height of 30 cm (12 in.) above ground level.
A screen with openings of no more than 1/2" square shall be placed over the pit and must be used at all times.
The cooking surface may not exceed 3,871cm2 (600 sq. in.).
Freestanding fireplaces will be evaluated on an individual basis with regards to these regulations.
Failure to adhere to these regulations may result in the permit being revoked. Operation without a valid permit may result in a fine of $100.
The Town of Whitecourt requires residential and industrial customers to obtain a Burning Permit prior to burning any clean brush or other vegetation that may have accumulated on the property. For more information contact the Town Office. Temporary Burn Permits cost $20.00. Time restrictions and other permit guidelines will be imposed by the Fire Department on a case-by-case basis.
Recruitment for 2023 is now complete.  Watch this page for information on the Department's next application intake.
The fire and rescue service is one of the most diverse and challenging professions, and we take great pride in overcoming these challenges through the diversity of our membership. Bringing together people with a variety of different skills and backgrounds allow us to offer the best possible service to our community. This would not be possible without our people applying to give of their time and committing to answer the call to protect the life, property and environment within our region.
Qualifications:
Minimum 18 years of age
High School Diploma or Equivalent
Criminal background & vulnerable sector screening satisfactory to the Town of Whitecourt
Valid Alberta Class 5 Driver's License (Class 3 with air brakes would be considered an asset)
Driver's abstract with 7 or less demerits
Ability to understand and communicate fluently in English
Physically fit and able to obtain medical clearance to perform tasks/duties of the job (See Summary of Physical Demands)
Able to commit to training and respond to emergency calls
Live within the response area
Attributes:
Positive attitude driven by strong values and ethics
Motivated with well-developed interpersonal and team skills
Good mechanical aptitude and problem solving skills
Willingness to learn and a commitment to excellence
Ability to effectively operate under the realities of emergency situations
Summary of Physical Demands: 
This position will include activities that include, but are not limited to, structural firefighting, pre-hospital patient care, rescue and extrication, confined space and wild-land firefighting. Some of the major stressors involved in training and day to day operations are outlined below:
Tolerating extreme fluctuations in temperature while performing duties. Firefighters are required to perform physically demanding work in hot (up to 150ºC or 400ºF), humid (up to 100%) atmospheres while wearing personal protective equipment that significantly impairs thermoregulation. (Core body temperatures can reach up to 40ºC after 20 min of hard work).
Wearing firefighting clothing and equipment that weighs at least 22 kg (50 lbs.) while performing firefighting work.
Sustaining body positions for extended periods of time while operating equipment or providing emergency medical assistance. This may include using tools or working above their head.
Performing physically demanding work while wearing positive pressure self-contained breathing apparatus (SCBA) which presents a significant resistance to expiratory flow and may reduce peak exercise ventilation by approximately 15%.
Making rapid transitions from rest to near maximal exertion without warm-up periods.
Operating in environments of high noise, poor visibility, uneven terrain, slippery surfaces and limited mobility; at heights; and, in enclosed or confined spaces.
High levels of cardiovascular stress as evidenced by average heart rates of 70% of the age-predicted maximum during training scenarios with brief, repeated periods of near maximal heart rate (90+%).
How to apply
Please fill out the volunteer application below this section. 
Whitecourt Fire Department Volunteer Application Form