Attractions
Discover all Whitecourt has to offer, from parks to shopping to natural attractions there is always something to explore!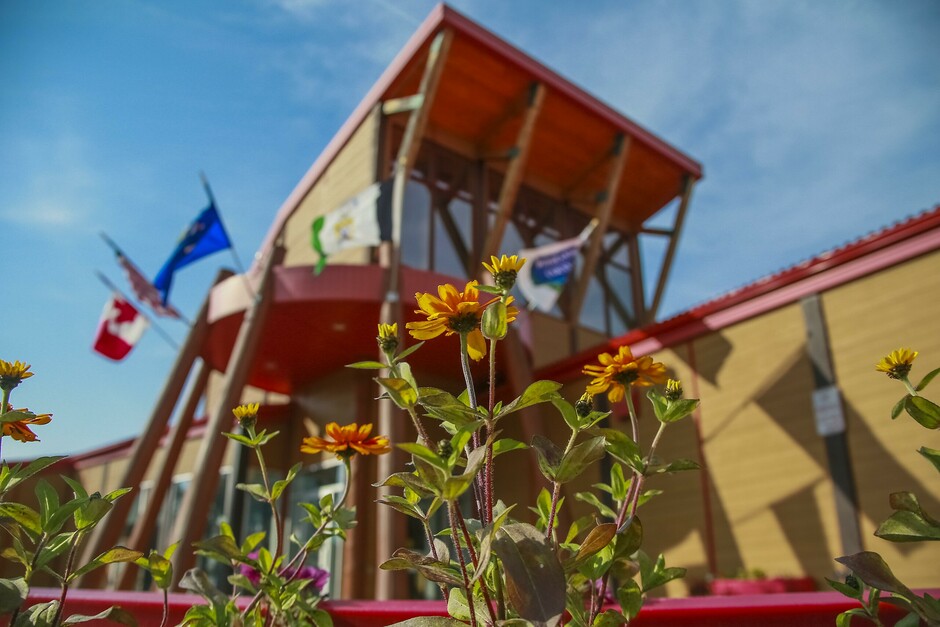 The Forest Interpretive Centre
The Forest Interpretive Centre is located just off of Highway 43 at the southeast edge of Whitecourt. The facility is home to the Visitor Information Centre, Interpretive Gallery and the John & Audrey Dahl Heritage Park.
John & Audrey Dahl Heritage Park: Located on the grounds of the Forest Interpretive Centre, the park is home to three visitor-accessible buildings. Visit the Visitor Information Centre to get a guided tour of the heritage buildings (only available during the summer months).
Forest Interpretive Centre Gallery: You are invited to stop and learn about the importance of the forest and forest industry in the development of our region.
Industry Tours
Ever wonder about how paper is made? Or how they transform a tree into something you build a house with? Schedule an industry tour through the Whitecourt and District Chamber of Commerce office by calling 780-778-5363 and get an insider's look into the operation of Millar Western Forest Products and Alberta Newsprint Company.
Memorial Point
Memorial park was built to recognize and honour Whitecourt and Area residents who have lost their lives while serving in the Canadian Armed Forces, police force, fire and ambulance services. The memorial features a stainless steel tree adorned with copper leaves, each representing an individual who died while serving our community and/or country. Memorial Point is located north of the Millar Road - Sakawatamau Drive intersection, near the top of the stairs that lead to Highway 43.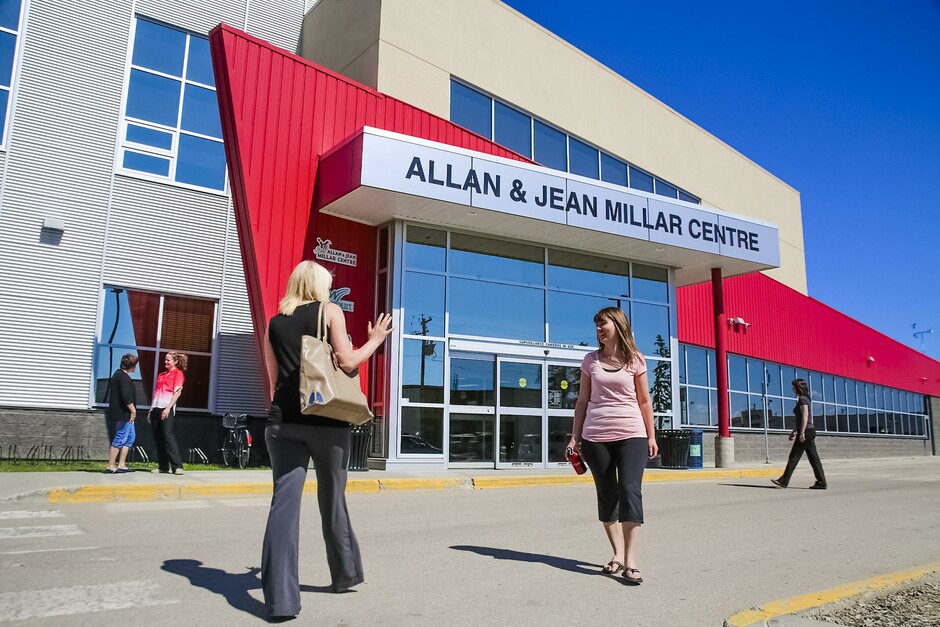 Allan & Jean Millar Centre
The Allan & Jean Millar Centre is a state of the art multi-use, recreation facility. Whether you are in town visiting relatives or rained out while camping, the Millar Centre will certainly keep the entire family entertained. The facility includes a fieldhouse, aquatic centre, fitness centre, indoor playground, and much more! For more information on the Allan & Jean Millar Centre call Guest Services at 780-778-3637 or follow the facility on Facebook.
Located along Highway 43 it is easy to find and is an easy walk from the Whitecourt Curling Rink and the Whitecourt Twin Arenas.
Festival Park & the Whitecourt River Slides
Take the plunge! Located in Festival Park (formerly known as Rotary Park), the River Slides are Whitecourt's most popular summer family attraction. The water feature includes two man-made creeks with a series of pools and drops for tubing and play, with a shallow basin and beach at the end. The Slides are open from May long weekend through to the end of September, weather permitting. The area also includes a number of picnic areas, as well as a concession stand for your convenience.  For more information, click here.
Whitecourt Skate Park
Skateboarders can show off their tricks at the Skate Park in Whitecourt. The Park is designed with a circle flow, created by Skate Park Creations Ltd. and skateboarder Jim Barnum. The plaza-style design includes many street skateboarding features; including stairs, rails, hips (two ramps placed together at an angle), and hubbas (a ledge running alongside a set of stairs).
Whitecourt Golf & Country Club
Come play one of Alberta's most beautiful courses. GDS Golf Design Service drew on years of national and international experience to design this par-72, 18 hole layout. But you don't have to be a pro to enjoy this course. You can also sharpen your skills with a lesson from our golf professional or practice to perfection at the driving range. Please call in advance for tee times at 780-778-3531 or visit www.whitecourtgolf.com.
Whitecourt Mountain Bike Park
Hit the trails this summer in Whitecourt!
The Whitecourt Mountain Bike Society has been working to expand our trail system and has completed phase one of the Whitecourt Mountain Bike Skills Park which includes the dirt jump track, pump track and flow trail.
For more information visit: www.bikewhitecourt.com
All of the Whitecourt Mountain Bike Trails can be found on Trailforks by downloading the free app or visiting www.trailforks.com/region/whitecourt/
JDA Place (Twin Arenas)
The Athabasca and McLeod Arenas are hot spots for winter recreation. Home not only to the many minor hockey, ladies and men's hockey teams, but also the Wolverines Junior A Hockey Club. Whitecourt is proud to host many figure skating competitions and provincial hockey tournaments. 
Whiteridge MX Park
Set amidst the northern Alberta forest and nestled near the mighty Athabasca River, the Whiteridge MX Park is a new motocross track located outside Blue Ridge. The facility consists of 20 obstacles over a 2-kilometre track.
The Whiteridge MX Park was built for racing quads and motocross bikes. Riders will be greeted with an appealing assortment of jumps and tabletops. All you have to do to ride the track is pick up a membership at:
Adrenaline Powersports Ltd.
3501 35 Avenue, Whitecourt 780-778-8500
1st Choice Car Wash
3530 Kepler Street, Whitecourt 780-778-3377
RPM Power Sports
#3 - 3803 36 Street, Whitecourt 780-706-2411
Find out more here.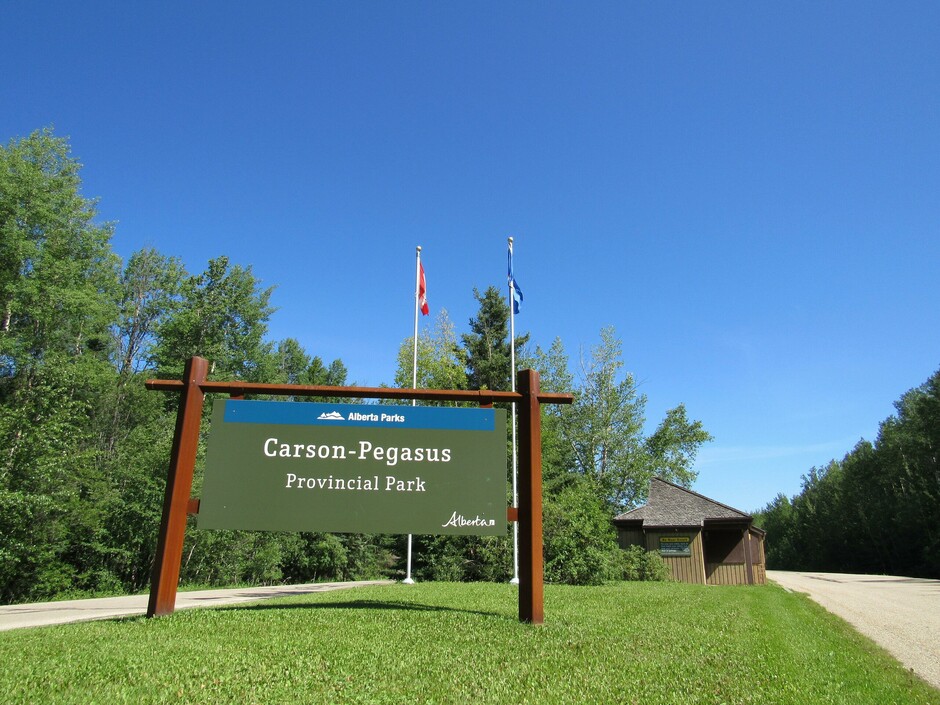 PROVINCIAL PARKS
Carson Pegasus Provincial Park
Located just 20 kilometres from Whitecourt, the picturesque Carson Pegasus Provincial Park provides the perfect setting for a variety of summer activities. Escape to this natural oasis, a scenic hour and a half drive from Edmonton.
Mixed-wood forests of aspen, balsam fir, balsam poplar, and white spruce provide the backdrop for your outdoor adventure - whether it be hiking the trails, fishing for rainbow trout in the waters of McLeod Lake, or viewing the variety of wildlife and bird species. Explore McLeod Lake via motor boats, rowboat, canoe, paddleboat, or kayak that are available for rent at the Park.
Park amenities include:
181 private campsites to accommodate RV or tent campers (41 powered sites)
80 reservation sites
group camping, perfect for family reunions and large gatherings
toilet and shower facilities
a wide variety of hiking and nature trails
boat launch and seawall fishing
playground
For more information on Carson-Pegasus Provincial Park visit the website or call 780-778-2664 to reserve your site today.
REGIONAL PARKS
Centennial Park
Located on the south boundary of Whitecourt, this large green space has kilometres of trails for biking, hiking, and jogging. Before heading out on the trails, make sure to pick up a trail map from the Visitor Information Centre located at the Forest Interpretive Centre or download a trail map from this website.
E.S. Huestis Demonstration Forest
The Huestis Demonstration Forest was developed with a focus on demonstration and learning as it relates to the boreal forest. Since 2006, the Huestis Demonstration Forest partnership has worked hard to renew, repair, and revitalize the site and is pleased to unveil all new educational signage, kiosks, picnic tables, bear-proof garbage cans, and several new hiking trails for you to enjoy. It is a great place to stop, stretch your legs, and learn about our amazing wilderness.
The site is only minutes from Whitecourt, just north of the Highway 43/Highway 32 junction. The site includes a self-guided tour with information kiosks, hiking trails, a tree garden, day-use parking, and washroom facilities. The driving or walking tour follows a 7-kilometre road loop, embedded within 10 acres of working forest.
Groat Creek
Groat Creek is a quiet and beautiful day-use site located just off of Highway 32 south. The location is perfect for an afternoon picnic or a rest stop. Seven sites complete with picnic tables, fire rings, and outdoor washrooms are available for your enjoyment. A wood shelter is also available; however, you must supply your own wood.
Hard Luck Canyon
Hard Luck Canyon is a beautiful place nestled in the forests of Woodlands County. Located 20 kilometres from Whitecourt on West Mountain Road, the canyon makes for a quick getaway from the hustle and bustle of everyday life. It's a perfect place to go and enjoy a breathtaking view of the ancient cliffs with the sound of the trickling falls and creek nearby. It is a prime location for visitors and local residents alike to relax for a picnic, or take some time to just relax under nature's canopy. Woodlands County has expanded the amenities located at the canyon in 2010 and has added new washrooms, picnic tables, a walking trail and bridge.
John & Audrey Dahl Heritage Park
Discover Whitecourt's roots at John & Audrey Dahl Heritage Park. Located on the grounds surrounding the Forest Interpretive Centre, this park features three visitor accessible heritage buildings and a number of assorted antique industrial equipment. Make sure to explore the 800 metre Interpretive Trail that winds throughout the forest.
Riverboat Park
Want to ride the rivers? Located on the west edge of Whitecourt, the boat launch located in Riverboat Park provides access to both the McLeod and Athabasca Rivers. The park also features a picnic area and shelter. This is a popular local fishing spot!
Festival Park
Festival Park (formerly known as Rotary Park) is your outdoor destination for family, outdoor activities in Whitecourt. The park features a splash park, picnic areas, sports fields, a playground, Whitecourt's Off-Leash Dog Park, an asphalt trail, and a pond that is stocked for family fishing in the summer and cleared for skating in the winter. Festival Park is also home to Whitecourt's most popular family attraction - the Whitecourt River Slides.  For more information click here.
WILDLIFE
Wild and ruggedly beautiful.
Visit Whitecourt on your next bird watching expedition in the boreal forest.
Due to our diverse geographical location between boreal forest, foothills and parkland natural areas, Whitecourt and Woodlands County are home to numerous species of songbirds, birds of prey and water birds. Come see the majestic Trumpeter Swan, Great Blue Heron, Black-Throated Green, Cape May, Bay Breasted Warblers, Northern Goshawk, Northern Pygmy Owl, Bald Eagle, and Belted Kingfisher to name a few.
Viewing areas include:
Hard Luck Canyon
E.S. Huestis Demonstration Forest
Forest Interpretive Centre and John & Audrey Dahl Heritage Park
Groat Creek
Carson Pegasus Provincial Park
Riverboat Park
For more information call or visit the Whitecourt Forest Interpretive Centre at 1-800-313-7383.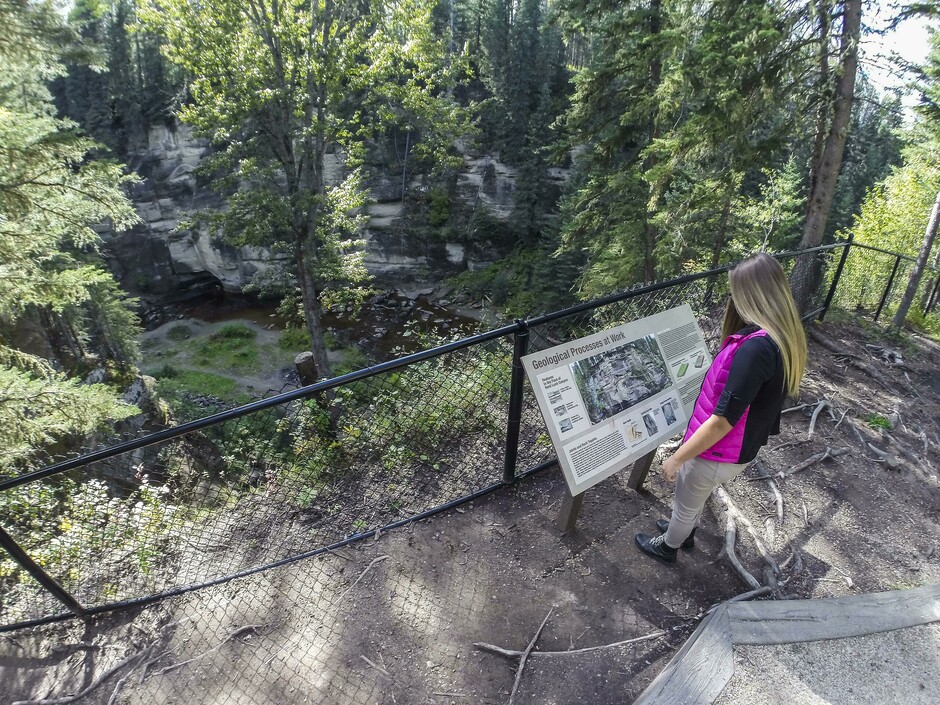 Coal Mine Hill Lookout
Coal Mine Hill provides a breathtaking view of rolling fields and forest. Located just 13 kilometres east of Whitecourt down 41 Avenue, this vantage point rests above an old coal mine that operated in the 1950s.
E.S. Huestis Demonstration Forest
Forestry is a major part of the history and economy of the region, and one of the greatest ways to learn about the industry is by visiting the E.S. Huestis Demonstration Forest. Located just minutes from Whitecourt (13 kilometres northwest on Highway 32), it provides a 10 square kilometre forest area that shows how a forest can sustain recreation, wildlife habitat, and resource harvesting over an extended period of time. This would be the perfect outing for individuals who are passionate about the environment, or for those with a general interest in the forestry practices. A 7-kilometre trail will guide you through the forest where you will learn something new at each of the 26 interpretive signs. You can walk, bike, or drive the trail.
Hard Luck Canyon
Hard Luck Canyon is a beautiful place nestled in the forests of Woodlands County. Located 20 kilometres from Whitecourt on West Mountain Road, the canyon makes for a quick getaway from the hustle and bustle of everyday life. It's a perfect place to go and enjoy a breathtaking view of the ancient cliffs with the sound of the trickling falls and creek nearby. It is a prime location for visitors and local residents alike to relax for a picnic, or take some time to just relax under nature's canopy.  If you'd like to explore the best nature has to offer, Hard Luck Canyon won't disappoint you.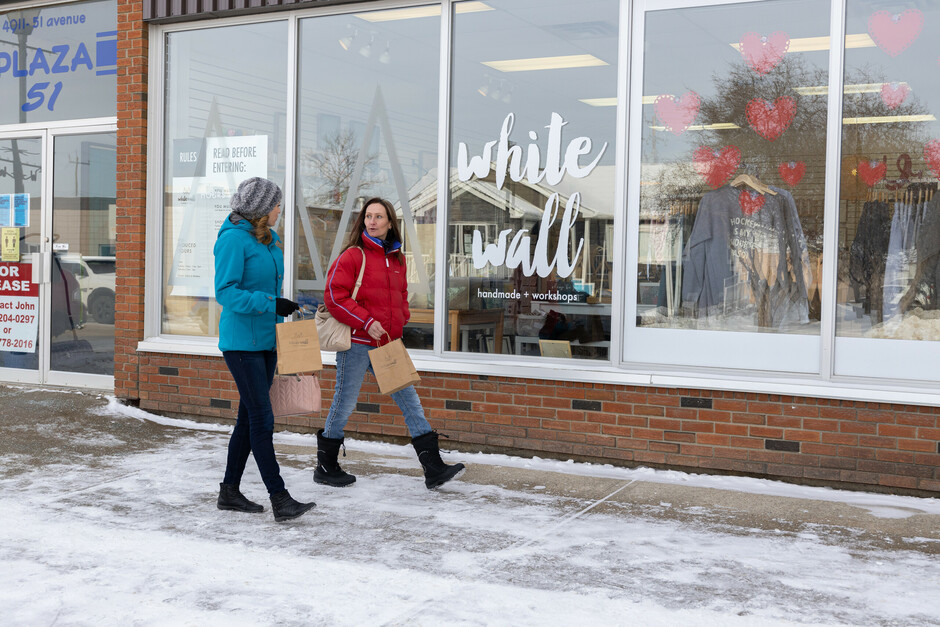 Downtown Whitecourt
Experience the sights and sounds of Whitecourt's downtown. Stroll the streets of Whitecourt and browse the many specialty and boutique shops. During the summer months, the Whitecourt Farmers' Market is held every Tuesday at the Legion Hall.
Whitecourt has a variety of shopping including gift shops, clothing stores, and craft stores that you won't find anywhere else. We are also home to larger retailers such as Wal-Mart, Home Hardware, and Canadian Tire just to name a few. Our local Chamber of Commerce can assist you if you are looking for something specific or will tip you off to some local favorites.
In between window shopping, take a break at either Friendship Park or Anniversary Square. Both downtown parks have picnic tables and benches for you to sit, sip a coffee, and enjoy the day.
There are also a number of restaurants available to fulfill whatever you are craving. Sample the wide range of cultural restaurants or snack on chicken wings at a local pub.
If you are looking to unwind after a day of exploring, hit the dance floor at one of our local nightclubs or take in a big game at a local pub.
Don't miss out on the weekly Farmers' Market that runs May through September in downtown Whitecourt.
NIGHTLIFE
Eagle River Casino
Try your luck at Eagle River Casino. Located on the Alexis Nakota Sioux Nation, just 8 kilometres northwest of Whitecourt, the Casino features:
250 slot machines
12 table games
6 poker tables
Timbers Bar & Grill
Fermented Moose Brewing Equipment & Co.
Are you a home brewing enthusiast or just looking to experience brewing in general. Whitecourt is home to the Fermented Moose & Brewing Equipment Co where you can share in the experience learning how to make beer, cider, or wine in their facility. There are also evening classes you can sign up for or book a time to enjoy some team building and bonding during a fun filled evening with your friends or family. Bookings can be made directly through the website, Facebook or by calling. 
Address: 4164 Kepler Street, Unit 2
Phone: 780-778-8441
Website: thefermentedmoose.com
More info: info@thefermentedmoose.com
Facebook: @thefermentedmoose
Do you have questions about visiting Whitecourt?
Contact Whitecourt Tourism at 1-800-313-7383 or tourism@whitecourt.ca.