Go back to News Listing
Flood Watch in effect for McLeod and Athabasca Rivers in Whitecourt
Posted on: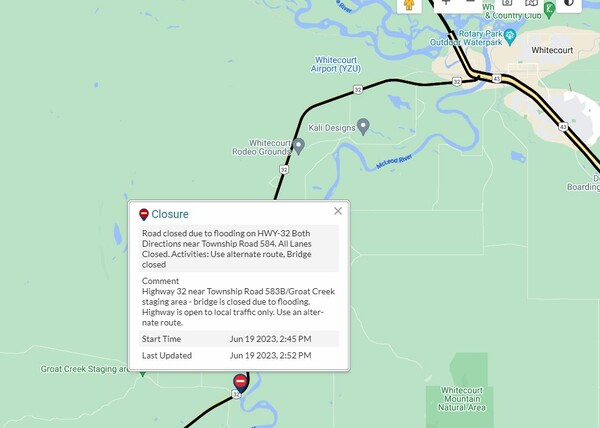 A Flood Watch has been issued for both the McLeod and Athabasca Rivers.
As a safety precaution, Riverboat Park is closed to the public until further notice.
It is anticipated that high water levels could impact the Sagitawah RV Park and Westview Mobile Home Park in Whitecourt. Residents in both areas have been advised that a flood watch is in effect and that possible evacuation of these parks may be needed. Both rivers are being monitored closely by staff from the Alberta Environment River Forecast Branch and the Town of Whitecourt, and further direction to impacted property owners, residents and park users will be provided if necessary.
Highway 32 remains closed at Groat Creek due to an abutment washout. Alberta Transportation closed a portion of the highway on June 19. Please obey all posted signage, and use alternate routes. Visit 511 Alberta for further details.
People are reminded to exercise extreme caution around the rivers. The Town of Whitecourt encourages people to report river or flood level concerns to the Town of Whitecourt at administration@whitecourt.ca so that the municipality can evaluate the risk involved.
The Town of Whitecourt will continue to monitor water levels and river forecasts provided by the Government of Alberta, and will inform the community as updates become available. Updates will be provided at www.whitecourt.ca and on Whitecourt's Facebook page at www.facebook.com/TownofWhitecourt.
For Alberta River Basins advisories and warnings visit https://rivers.alberta.ca/.