Go back to News Listing
McLeod and Athabasca Rivers Flood Watch Update for Whitecourt - June 22, 2023 at 4pm
Posted on: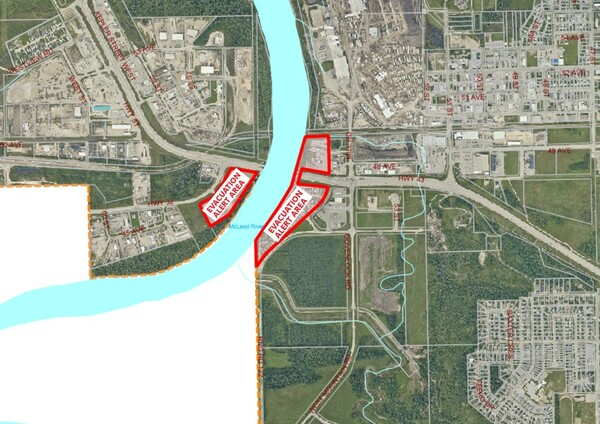 The Town of Whitecourt continues to monitor the water levels in Whitecourt. According to Alberta River Basins, both the Athabasca and McLeod Rivers in Whitecourt have peaked, but with so much water in the system, water levels will remain high on both rivers throughout the weekend.
The Evacuation Advisory Alert (issued June 21, 2023) for areas located along the McLeod River near Highway 43 in Whitecourt, including Riverside Trailer Court, remains in effect. No evacuation is required at this time. Everyone in the affected area must prepare to evacuate with 1-hour notice. The Alert can be viewed on the Alberta Emergency Alert website.
Access to the Sagitawah RV Park is unsafe, and the RV Park remains on Evacuation Order.
Festival Park, including access to the Off Leash Dog Park and the surrounding trail system in and out of Festival Park through to 47 Street. As Park access is prohibited, Whitecourt Transit has temporarily removed the Festival Park bus stop (stop #5) from service. The Park will remain closed throughout the weekend, and an update on when the Park will reopen will be provided to the community on June 26, 2023.
Due to high water levels, the following areas are closed to the public until further notice:
the pathway located under the Highway 43 McLeod River Bridge;
47 Street north of Flats Road;
the Whitecourt Golf and Country Club;
Riverboat Park.
People should use extreme caution around the rivers and flood waters. There are a number of road closures in the community and surrounding Woodlands County, including Flats Road and West Mountain Road. Please obey all posted signage, and do not travel through water covered roads.
The Town of Whitecourt will continue to monitor water levels and river forecasts provided by the Government of Alberta, and will inform the community as soon as updates become available.
Other Resources:
• Alberta Emergency Alert - https://www.alberta.ca/alberta-emergency-alert.aspx
• Alberta River Basins Advisories and Warnings - https://rivers.alberta.ca/
• Alberta 511 - https://511.alberta.ca/#:Alerts
• Woodlands County – www.woodlands.ab.ca