Go back to News Listing
Notice of Public Hearing: Proposed Road Closure
Posted on: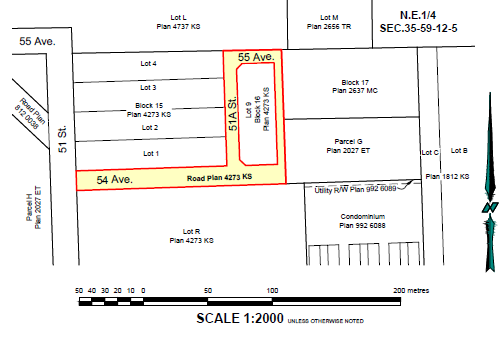 The Town of Whitecourt proposes to close Road Plan 4273 KS within S.E. ¼ Sec. 35 TWP. 59 RGE. 12 W.5 M. to allow for consolidation with adjacent properties.  A Public Hearing will be held at the Forest Interpretive Centre (3002 - 33 Street) at 4:00pm on Monday May 9, 2022 to hear anyone in support of, or opposed to, the proposed road closure. 
Any affected individuals or organizations may make presentations, speak at the hearing, or submit written comments for consideration. Written comments must be received at the Town Office before noon on Friday, May 6th, 2022.
An information open house will be held at 3:45 p.m. on Monday May 9, 2022 at the Forest Interpretive Centre, prior to the Public Hearing, to answer any additional questions.
If you have any questions regarding the process or public hearing, please contact Development Officer Samantha Kemp at the Town Office at 780-778-2273, or by e-mail at planning@whitecourt.ca. 
This notice is issued pursuant to the Municipal Government Act.