Go back to News Listing
Road closures in downtown Whitecourt for Carnival
Posted on: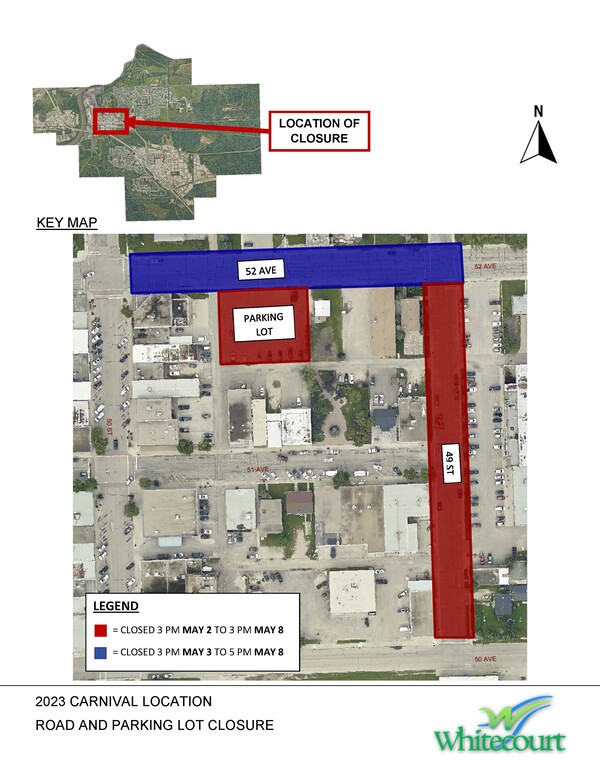 The Whitecourt & District Chamber of Commerce is hosting its annual Carnival in downtown Whitecourt on May 5-7, 2023.
Information on tickets and times is available on the Chamber's Facebook page.
To allow for set-up and take-down of the Carnival, the Town of Whitecourt has approved the following closures from 3:00pm Tuesday, May 2, to 3:00pm Monday, May 8, 2023:
49 Street  from 50 Avenue to 52 Avenue:

Closed 3pm May 2 to 3pm May 8

52 Avenue from 49 Street to 50 Street:

Closed 3pm May 3 to 5pm May 8
See the attached map for details.
Barricades and signage will be posted; motorists are asked to use alternate routes in the area from May 2 to 8.
From May 3 to 8, Whitecourt Public Transit Bus Stop #6 (located across from Central School at 49 Street and 52 Avenue) will not be in service. Temporary Bus Stop #6A will be created at the corner of 48 Street and 52 Avenue; watch for signs marking the stop. For more information on Public Transit download the TransLoc Rider app or click here.