Go back to News Listing
Whitecourt is Oil Country
Posted on: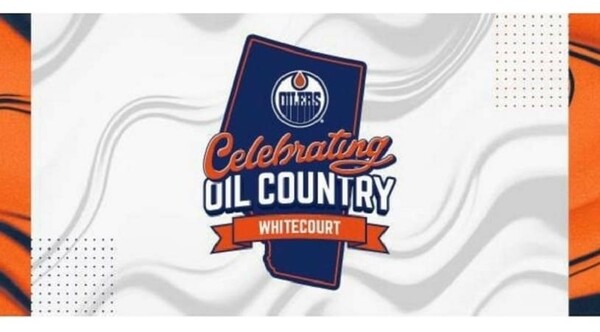 The Edmonton Oilers have announced a Celebrating Oil Country initiative where the organization will annually recognize communities in Oil Country and Whitecourt will be the first feature town.
Every year, team officials say the Oilers plan to celebrate a community in Oil Country that makes up a part of the best, most passionate fan base in the NHL by bringing the Oilers experience to them and celebrating them at an Oilers home game. This is expected to include a delegation from the Oilers organization visiting the selected town for an Oilers Day celebration, live broadcasts and other feature content spotlighting the town and its people, funding and other support for local minor hockey development, and recognition during an Oilers home game.
"We are very fortunate to have so many great fans from communities across Oil Country that shine a light on us every year, so we felt it was time to return the favour," said Tim Shipton, Executive Vice President, OEG Sports and Entertainment. "The town of Whitecourt is a great fit for the inaugural celebration and we are looking forward to highlighting the many other great communities across Oil Country in the years to come—and bringing the Oilers experience to their backyard."
This year's festivities will begin in Whitecourt on Wednesday, October 19 with Oilers alumni, Hunter the Lynx and the Oilers Orange & Blue Ice Crew visiting local schools and hosting a hockey clinic at the Scott Safety Centre.
The day will also feature Oilers Radio Analyst Bob Stauffer on site for a live broadcast of Oilers Now from Whitecourt's Boston Pizza. Oilers alumni and executives will also participate in the Whitecourt Chamber of Commerce Economic Forum that day. The events in Whitecourt will wrap up with the Oilers group attending the Whitecourt Wolverines AJHL home game that evening.
Then on Saturday, October 22, the scene will shift to the Oilers game vs St. Louis at Rogers Place, when the community and fans of Whitecourt will be featured throughout the game.
"Whitecourt is honoured to be featured this year by the Edmonton Oilers - not only to celebrate our community, but also the game of hockey," said Whitecourt Mayor Tom Pickard. "Whitecourt is a young, vibrant community located in the heart of Oil Country with a strong hockey fan base. Just like in hockey, it's taken a lot of teamwork, support and determination to build our community into what it is today, and we are so proud to be recognized by an organization that values this spirit and collaboration."