Go back to News Listing
Whitecourt's new website and app are ready for residents to download and explore
Posted on: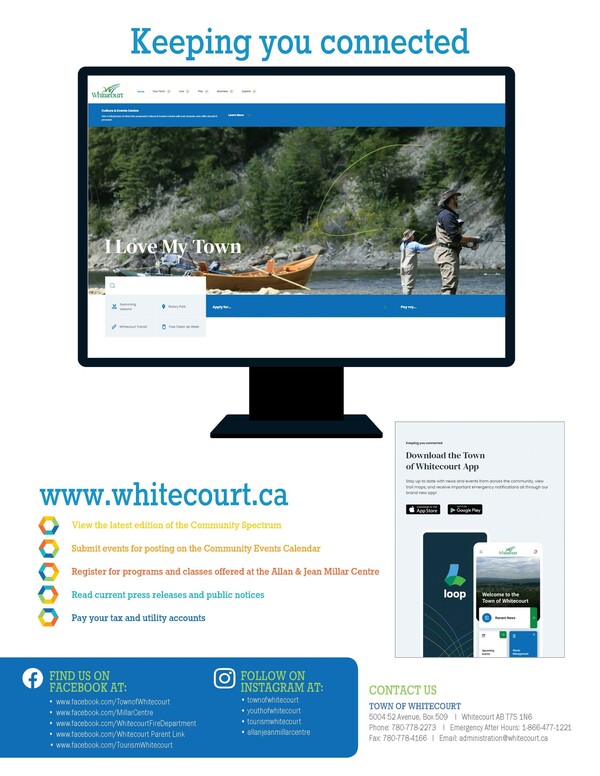 Whitecourt officially launched its new website and app this week.  Along with a fresh new look, the website is easier to navigate, includes new interactive tools, and gives community members improved access to information about municipal services.
Redesigned navigation structure to provide more direct access to Whitecourt's most commonly searched topics and resources.
Fully responsive mobile design and upgraded search function.
New tools include: business directory, volunteer opportunities database, tax calculator, and document manager.
In conjunction with the new website, an app has been developed to allow for better communication with the community.  Available for both Apple and Android devices, the app features a news feed, events calendar, and emergency push notifications.   
Search "Loop for Municipalities" on the App Store or Google Play to download the app. Once downloaded select the Town of Whitecourt.  
Make sure you set your settings to receive notifications at all times. Whitecourt will be using this system to relay important information to the community in the event of an emergency.
The website is Whitecourt's key communication tools, and received almost 300,000 page views last year.  It is a valuable resource for residents, businesses, visitors and investors, and is the quickest way to find information on local services, programs and events.